Already 20 years ago, Gruppo Fabbri Vignola implemented an environmental management system and started handle its environmental communication in accordance with Regulation (CE) No 1221/2009, obtaining and maintaining over time the EMAS (Eco-Management and Audit Scheme) Registration. EMAS is the voluntary certification scheme that all companies within the European Union, committed to environmental efficiency & transparency towards all parties interested in their performance, can adopt.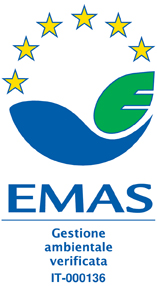 The EMAS registration is issued by a technical Committee of the Italian Ministry for the Environment, in collaboration with local authorities and independent certification bodies, and certifies not only a commitment to sustainability, but also full compliance with applicable national and local environmental laws and regulations. The supervisory authorities are therefore directly involved in issuing and maintaining this registration, together with the independent certification bodies.
As part of the EMAS Registration, the Company is obliged to draw up and disseminate the "Environmental Statement", providing, on an annual basis, an update of the key indicators relating to its environmental performance, and its projects on development & sustainability with regard to processes or services, and  to products. The company performance in terms of managing environmental emergencies and any accidents or anomalies is also examined, together with the corrective or improvement actions taken. The contents of the "Environmental Statement" are then verified, in terms of correctness and clarity, first during the annual audit by the independent certification body, and then, before formalisation, by the technical Committee of the Ministry of the Environment.
The "Environmental Statement" must be provided to all interested parties who explicitly request it.
The EMAS registration also requires companies that have signed up to it to involve all their business partners, as well as their employees, in a virtuous circle of sustainability.

In 2002, the Vignola film plant was one of the first chemical processing companies in Italy, and the first one in the food packaging film production sector, to adhere to EMAS. Subsequently, in 2009, the EMAS registration was extended to the Vignola machine factory and, finally, in 2012, also to the Milan site. To this day, this Scheme represents an excellent tool promoted by local and national authorities as a guarantee of excellent environmental performance.