From 14 to 19 May, Fabbri Group will be pleased to welcome all visitors to IFFA 2022, Stand no. B16, Hall 11.0, and to share all news on their most performant packaging systems for Meat and related sectors.
Wish to pack meat, ready meals and alternative proteins in a compostable way?
Try NATURE FRESH & FABBRI HYBRID, the Fabbri complete compostable packaging system!
Unique in the world, our "Hybrid" wrapping machines can use trays and stretch films in any material (traditional, biobased, compostable), adapting production to any requirement with extreme flexibility and no additional costs or downtime
For you on show:
AUTOMAC ULTRA – High productivity wrapping machine, reaching 75 ppm

NATURE FRESH – The first stretch film worldwide for automatic packaging with domestic & industrial compostability certification (EN 13432). Nature Fresh has already packed millions of products in accordance to the Circular Economy.
Pack & Label all at once?
Try ELIXA LIBRA: 3 different integrated automatic wrappers, equipped with top/bottom labelling system, using plain or printed films of one single width regardless of the product size.
For you on show:
ELIXA 35 LIBRA – The top-selling solution specially designed for retail and industry



Perfect MAP and skin packaging, from small retail shops to large industrial producers
Find the most appropriate solution to your needs among our automatic, semi-automatic and manual CAVECO tray-sealers: more than 15 different models that enrich today the Fabbri range.
For you on show:
GAMMA – The in-line tray-sealer for large productions, with over 200 optional integrations to create your complete packaging line

MAGIC – This innovative compact tray-sealer automatically packages trays of different shapes or heights without requiring a change in punching tools or settings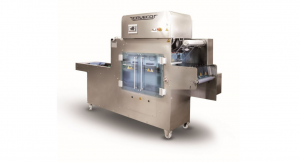 Reach best-in-class performance and visibility with the Fabbri films!
TRADITIONAL, BIOBASED OR COMPOSTABLE STRETCH & BARRIER FILMS: The numerous films in our portfolio are available in plain or printed form according to the different applications. Retail and Industry widely use them to pack meat, ready meals and alternative proteins at optimized thicknesses.