Nature Fresh, the certified compostable cling film for automatic and manual food packaging produced by Fabbri Group, becomes "certified compostable" also in North America, thanks to the BPI commercial compostability certification (ASTM D6400 standard).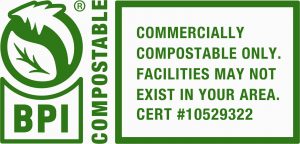 BPI (Biodegradable Products Institute) is a scientific organization supporting the transition to the Circular Economy promoting the use of products designed to biodegrade in specific biologically active environments.
Nature Fresh achieved the BPI certification through specific and rigorous testing according to ASTM standards and to other local additional restrictions on possibly harmful materials.
This new certification can be added to Nature Fresh' certifications for Domestic Compostability (TÜV Austria) and Industrial Compostability (TÜV Austria, DIN CERTCO for the "Seedling" brand by European Bioplastics, Italian Consortium of Composters "CIC") already achieved according to Standard EN 13432, once again emphasizing its contribution to the Circular Economy.